PRINCESS ETIQUETTE - AGES 3-7 YRS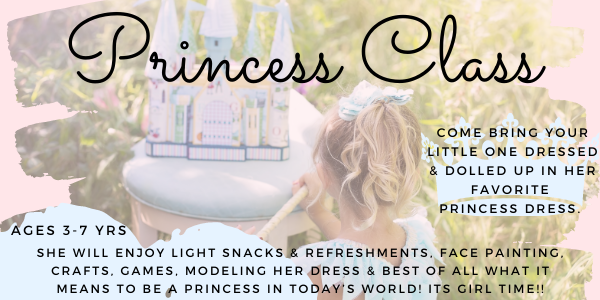 Come enjoy getting your nails done, face paint, jewelry making, modeling, etiquette, friendship, service & more. 
$20 per princess $15 for sibling. 
Our focus will be on creating an inspirational encouraging statement for the year & making a beautiful art project.
Class 1 "Get to know you"                                         Class 4 "Fashion & Style"      
Class 2 "Serving Family & Community".            Class 5 "Made to be……"     
Class 3 "Crafts & Service Project"                       Class 6 "Coronation Day"  
GIRL SQUAD - AGES 7-12 YRS
Come celebrate being a young girl! It's facial, DIY soap & bath bomb making! Let's learn about how wonderful God made us, how different we are, make new friends, learn to be a leader helping other girls! We will only take 10 girls! 1-3 PM  Ages 6-10yrs.  Class fee $17. 
Class will fill up! Military or sibling discount available.  (sibling or military discount available) Bring a friend & save $3. 

Call us to day 619-479-0850  click here to pay for class